After close observation and research it has become apparent that there is a clear connection between salt/sodium and seborrheic dermatitis. If you look around online you will find lots of testimonials on how people are able to control their seborrheic dermatitis symptoms with the use of sea salt washes, baths, and lotions.
So could something as simple as sea salt be the cure for seborrheic dermatitis?
This article reviews the most popular ways sea salt is utilized for the treatment of seborrheic dermatitis and covers various usage tips that may be relevant if you go down this path. Additionally, discussion of dietary sodium intake and how it may relate to seborrheic dermatitis in the second half of the article.
How People Use Sea Salt to Treat Seborrheic Dermatitis
Below are the two most popular ways the people successfully use sea salt to manage/cure their seborrheic dermatitis. The only reason I said both manage and cure seborrheic dermatitis is that there actually are people who report complete remission of their seborrheic dermatitis using sea salt topically.
1. Sea Salt Water Soaks for Seborrheic Dermatitis
Some people have found that mixing a fairly strong solution of about 1 teaspoon of sea salt per half a liter of water, then soaking the affected skin for about 5-10 minutes extremely effective.

Magnesium rich sea salt appears to be superior
Various literature examining the usage of sea salt for the treatment of various skin conditions suggests that magnesium-rich sea salts (such as dead sea salt) appear to have superior effectiveness (1, 2).
2. Sea Salt Water Shower Rinses for Seborrheic Dermatitis
Another popular way to utilize sea salt is in the shower. Instead of taking the time to soak your skin in a salt solution, simply prepare a bit for the shower. Once in the shower take a handful of your pre-prepared mix and apply to the skin. Leave it on while you continue with your regular shower and simply rinse off with cold water at the end.
Typically most people recommend about the same proportion of sea salt to water as the soak above. Specifically 1 teaspoon per 1/2 liter of water.
3. Sea Salt Nasal Irrigation Sprays (Added 2015/03/24)

Recently I had a stuffy nose and someone told me to use some saline nasal spray. It was something I've never seen before, so it was a great discovery. The one I bought is just disinfected isotonic (which means its the same concentration of salt as your body) seawater and produces a very gentle mist.
It seems it would actually be perfect for misting the face with. The concentration will always be spot on, it will likely have more trace minerals present than strictly sea salt (if it's actual seawater), the way it disperses the salt water solution evenly is a great benefit, and the convenience factor is there as well (easy to take with you).
However, since my seborrheic dermatitis has been controlled (using the approach discussed: here, I didn't bother attempting this. If anyone gives this a try, please leave your findings in the comments.
Additional Tips for Treating Seborrheic Dermatitis with Sea Salt
Now that you know several sea salt treatment approaches you can try, there are a few treatment tips you should keep in mind:
Follow-up with a light moisturizer if you find the skin overly dry
Avoid contact with eyes
Try different types of sea salt (dead sea salt has the most evidence)
Dry Skin After Sea Salt Treatment and How to Moisturize It
Many individuals find that sea salt water treatments can be quite drying when you first start. In this case, a simple moisturizer can be helpful.
However, this is where it gets a little tricky since many popular moisturizers on the market actually aggravate seborrheic dermatitis. To maximize the positive results obtained from the sea salt it is critical to find a suitable moisturizer. For this you can take a look at my previous post one moisturizers I recommended for seborrheic dermatitis.
Most moisturizers contain a variety of oils which are believed to feed the exact fungus (Malassezia yeast) which is believed to be an integral part of the seborrheic dermatitis problem. The key is to use one without any oils known to aggravate seborrheic dermatitis.
Alliteratively if you can get away without moisturizing at all, even better!
Be Careful When Applying Sea Salt to Facial Skin Affected by Seborrheic Dermatitis
If you plan on applying the salt water solution to the face, close your eyes and cover your entire face. Once your ready to rinse off, make sure to rinse thoroughly so none of the salt water gets in your eyes. If it does get it your eyes don't worry too much as it's not going to do any long-term damage, but it will sting quite a bit.
What Type of Sea Salt Works Best for Treating Seborrheic Dermatitis
All the people that have provided successfully testimony for this treatment have used various sea salts with great results. For me personally, I did not notice much for a difference between the different types. The two that a lot of people swear by are Dead Sea Salt and Himalayan Pink Sea Salt.
Dead sea salt has quite a bit of evidence that suggests it's quite effective for psoriasis (a condition with many similarities to seborrheic dermatitis) treatment (3, 4). However, Himalayan Pink Sea Salt does not appear to be very different than regular sea salt and this makes it a little questionable in my opinion.
How Dead Sea Salt Differs
Dead Sea Salt is quite high in magnesium especially compared to regular sea salt. Research evaluating the effectiveness of dead sea salt suggests that this is the key characteristic that makes it effective for various skin disease (5).
Additionally, since magnesium is known to act as a fairly strong anti-inflammatory and this could truly explain why some people report improved results with its usage.
Which Sea Salt Should You Use
In the end, it's up to you. For me, good old regular sea salt worked just as well as the other options that I've tested.
For reference, here is a review of some popular salts:
Dead sea salt
Himalayan pink salt
Magnesium salt (magnesium chloride)
Epsom salt (magnesium sulfate)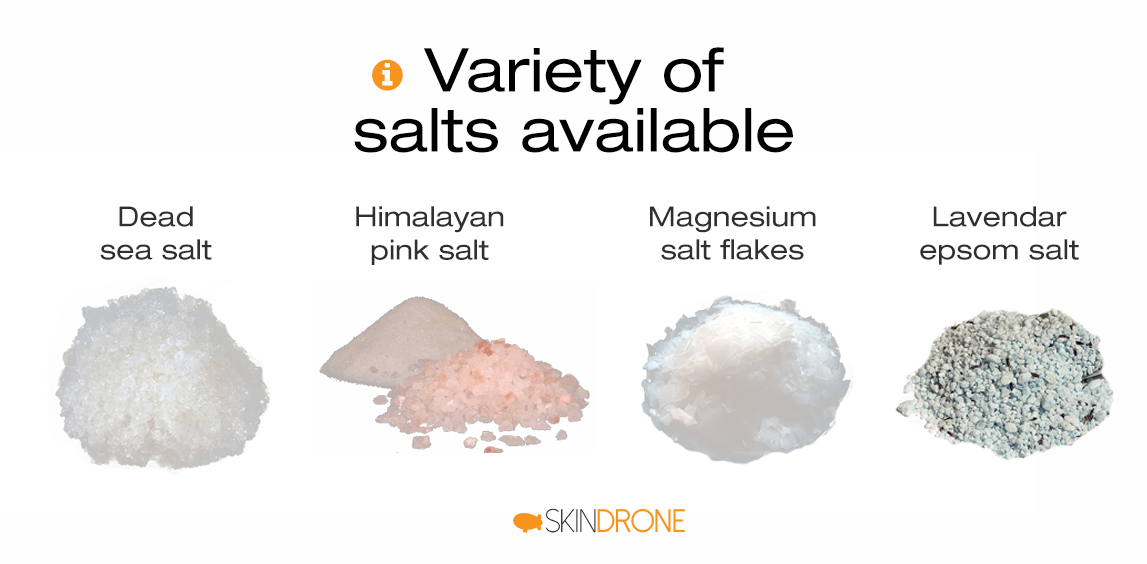 And if you do end-up experimenting, would love to hear how it goes.
My Radically Different Approach to Using Sea Salt for Seborrheic Dermatitis
After using the above sea salt treatments with minimal progress, I began to question if there is something more I could be doing. At the same time, I started to notice that poor food choices did not always result in seborrheic dermatitis flare-ups.
And this led me to further research and experimentation.
If you closely observe all of the available knowledge and testimonials found online you can see that most people who experience seborrheic dermatitis typically stick to a fairly clean diet. This along with the fact that most health advice and recommendation touches upon salt and its effect on health. Based on current recommendations we can see that in our culture we are typically recommended to reduce salt intake to at the very least control our cravings.
Some things I did notice was that my extremities (hands and feed) got cold very easily and I would almost never break a sweat. Even during the most intense exercises, I could stay super cool and practically sweat free.
First I started looking around online for data on salt/sodium deficiencies, which led me nowhere. Most research and writings recommended the same old advice. This advice being: lower sodium intake is good, high sodium intake is bad. However, a video (can't find the link, but it discussed the benefits of quality dietary sea salt) and an interesting research paper showing the dietary salt may improve the skin's microbial resistance (6) inspired me to try something different.
A Word of Caution
Please be careful when trying the following advice. If your sodium intake is high, or you have other problems related to sodium intake than this is not for you and just stick to topical application.
For me, my sodium intake was nil. I never put salt on any of my food. Most of my cooking was done without salt. If a recipe called for salt I would use about 1/10th of the recommended amount.
My food was bland and that's how I got used to eating it. Instead of salt, I relied heavily on herbs and spices to give my food taste. This is a practice I do highly recommend because the taste diversity you get from using herbs and spice compared to just salt is out of this world.
Adding Sea Salt to My Diet and It's Effect on Seborrheic Dermatitis
So now it was time for action. Each morning when I woke up the first thing I would do is go to the kitchen and mix about a quarter teaspoon of regular sea salt with some warm water. Then I would take a few minutes to slowly sip down the drink. I would enjoy every single last sip and it felt amazing. The rest of the day I would do everything as normal, except I stopped worried about sodium intake. I stopped checking labels for sodium and started eating a more loosened diet when it came to salt.
This small, but clearly very significant change led to many positive outcomes. First of all my hands and feet hardly ever get cold anymore. The skin that used to be affected by seborrheic dermatitis started to drastically change. It no longer seemed to be broken or inflamed. The fungus that used to live deep inside the pores seemed to disappear and no longer puss like before.
My Honest Opinion On How This Sea Salt Approach Worked Out
Now to be honest I do not believe the increased intake of sea salt alone could have had such amazing results if it was not for all the other lifestyle modifications I have made prior.
I truly believe it is the sum of all my efforts that led me to finally make seborrheic dermatitis a thing of the past. It was the meticulous monitoring of the food I ate, the introduction of meditation and the overall improvement of how I handle my body that leads me to experience my regular old skin no longer affected by seborrheic dermatitis.
Having said all this I do strongly believe that sea salt played one of the biggest roles in helping me solve my seborrheic dermatitis problem.
Further Reading
Here are a few forum topics from around the new that you may find useful:
Summary
Dead sea salt has been used for thousands of years. Ancient civilizations held high regards for its healing power and it was traded in markets all over the world.
Many individuals have provided strong testimonials on the effectiveness of topical sea salt application in treating and sometimes even curing seborrheic dermatitis.

The most commonly used method is to mix a teaspoon of sea salt with 1/4 liter of water and use this to soak the skin for 5-10 minutes.

When using sea salt soaks; following up with a moisturizer, avoiding eye contact and trying different types of sea salt can be useful.

Recent scientific discoveries and movements have raised many red flags when it comes to sodium intake. This has led to a strong a very strong negative outlook on salt and the goal of modern diets to reduce sodium intake.

Reducing sodium intake does make sense due to many processed foods being high in sodium. However, the goal should be to reduce sodium specifically, but instead to reduce our daily dependence on processed foods.

It may make sense to evaluate the source of salt in your diet and rethink the usage of high-quality sea salts.
For me simply increasing the sea salt consumption through diet led to amazing results for my seborrheic dermatitis. My skin started to return to its previous condition and other health problems were positively affected. It must, however, be noted that initially my sodium intake was practically nil and this led me to experiment. If your sodium intake is already high it is highly recommended to first reduce it before adding sea salt to your diet.
In the end, sea salt was a huge part of my personal seborrheic dermatitis cure. If you would like more information in regards to my approach or would like to share your experience please drop a comment below.